We are happy bunnies here at the House of Ugly Fish, and not just because it's recently been Easter! The sun is out in Manchester and the temperature has risen above 10 degrees Celsius for the first time in probably six months, which puts everyone in a great mood. We're excited to be working on some new fused glass art and kitchen glass splash back pieces in the Manchester sunshine. To pay tribute to the summer, we thought we'd hare with you some previous installations we've completed that have a summer vibe.
Take a look!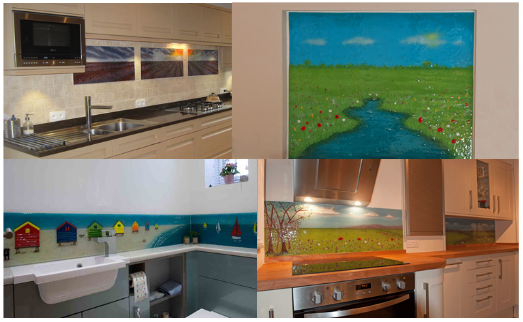 First up there's the lovely sunrise/sunset scene which features the fierce, orange glow of the sun, set against a lovely rural landscape. This kitchen glass splash back is actually three separate panels coming together to create one installation. It really complements the country feel of the kitchen.
Below that is a wonderfully retro, British seaside scene that, with the help of the gradually smaller beach huts, creates a truly three dimensional piece – a great border for a bathroom.
And on the left we have two similar meadow scenes used in two different parts of the house. The first is a fused glass art piece used as a focal point on a wall and the way the water has been designed really makes it feel like you want to step right into the piece. The other is a much larger kitchen glass splash back that runs against the whole wall. We absolutely adore the way the kitchen spotlights shine through the clouds like a bright summer's day!
Has the sun got you inspired for some fused glass art or a kitchen glass splash back? Get in touch with us today!