Everyone loves to dress their home with a bit of art, but it can be frustrating when you can't seem to find the perfect piece for your home. Sure, there are countless traditional art pieces that are absolutely stunning, but what if you want something a bit more unique and out of the ordinary? More and more people are turning to handmade, fused glass art and glass splashbacks to satisfy their aesthetic needs.
If you've never heard of fused glass art, let us tell you a bit more about it. Here at House of Ugly Fish, we offer you a complete bespoke service to create the exact piece you want. You can pick colours, patterns and styles that you would like us to use in your finished piece, be it a piece for the wall or one of our glass splashbacks, and we will incorporate them into the art work. Many of our clients provide us with photographs, fabric, wallpaper and paint swatches.
We then use these references to create a completely unique art piece that fits perfectly into their home. What's more; our fused glass art can be displayed in places where traditional artwork cannot, for example, in bathrooms, kitchens and for our commercial work, swimming pools and saunas. Basically anywhere there's likely to be a lot of water and steam! Our fused glass pieces and glass splashbacks can get as wet as can be without being ruined.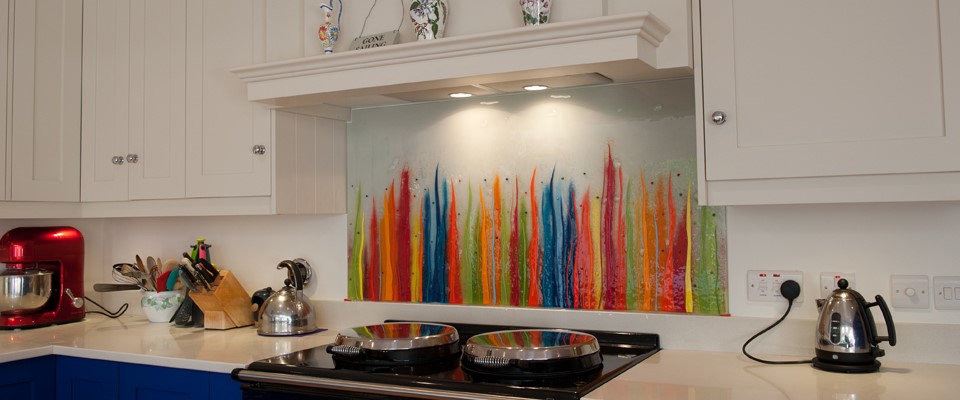 Glass splashbacks are the perfect addition to a kitchen as they are made from fused glass, which, as we just explained, isn't affected by water or steam. You can cook away to your heart's content, steaming, boiling and frying your food, whilst looking at a beautiful piece of bespoke artwork that you won't be worried about ruining.
We're proud to be able to bring this kind of bespoke service to people and supply them with beautiful coloured artwork that is completely personal and unique to them. The team here are so dedicated and are always looking for new and interesting ways to present the glass. These include moulding, shaping, framing and incorporating the glass with mirror; we also do fused glass accessories that include placemats, coasters, mirrors and bowls. The possibilities are endless when it comes to fused glass art and glass splashbacks! Have a look around our website to see some of the work we've already done for our ever growing client base.