Fused glass art isn't just something we create for people's homes; we also create and install a lot of commercial glass art for a range of clients. We've provided commercial glass art installations for so many different kinds of industries; our work is currently in restaurants, hospitals, schools, offices and health spas.
As part of our commercial glass art service we are able to incorporate logos, designs, text and anything else that is requested into the bespoke piece. Alternatively, we can provide a completely new design from a brief or specification. Here are some examples of the commercial glass art that we've already created, it should give you an idea of the kind of work we do!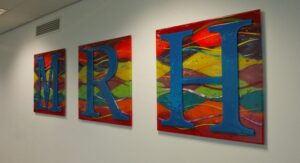 Our commercial glass art can be made to pretty much any size. Our single panels can be created as large as 1.6 x 2.6m and we create a multi-panel installation as big as you'd like!
There are many reasons for companies wanting to add some commercial glass art to their building or office; some want an eye-catching piece in their reception to impress potential clients and customers; some want a soothing piece of art to create a calming atmosphere; some cannot have traditional artwork in their location and some just want an unusual way to showcase their company. Whatever their reason, we're happy to accommodate anyone for their commercial glass art.