In our last blog we spoke about how we were going to be pretty much touring up and down the country this year, showcasing our fused glass art and glass splashbacks. Well there is one particular show that is especially close to our hearts – Grand Designs Live in London.
Next month will be our tenth Grand Designs Live show in London since it opened and we couldn't be more excited. Not only do we absolutely love heading down to London to be a part of the event, but the fact that this year will be our tenth show just highlights how long we've been in the fused glass art and glass splashbacks business!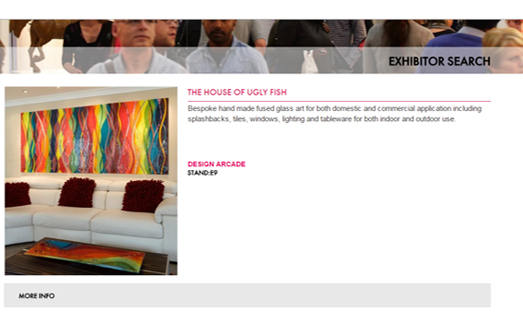 If you've never been to the show let us give you a little bit of information on what it's all about. Grand Designs Live, sponsored by Anglian Home Improvements is based on the Channel 4 television series, and presented by home design guru Kevin McCloud. It is held every year at London's ExCel. This year it begins on the 2nd of May and runs for 9 days, offering visitors a magnificent opportunity to see first-hand the latest home trends, as well as getting a sneak peak at many new products or products they have never seen before. With over 500 exhibitors across seven different sectors there is so much inspiration to be taken away to get the most out of your home.
The House of Ugly Fish will be situated in the design arcade at stand E9 with our beloved fused glass art and glass splashbacks on show for exhibitors and attendees alike. It's a great event and a fantastic way for us to measure how far we've come as a business and a brand over the last ten years.