You know we just love to share with you client photos when we get them and today is no different! We're really pleased with how these feature windows turned out so of course we just had to include them in our blog. These bespoke windows were completed for a house in Kent and whilst they may look like stained glass windows, they're in fact, completely different. Our glass window design method is completely different to how stained glass windows are created but we can forgive you for thinking that's what they were – everyone does it!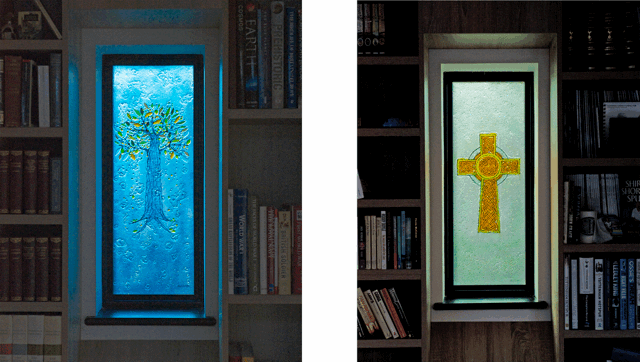 What do you think of these three bespoke windows? The client down in Kent was so pleased with the finished product and so were we! The first glass window design feautures some beautiful leaves that look like they're scaling the wall. A lovely sight to come home to after a hard day's work!
The second two bespoke windows are set amidst an array of books which help the room give out a really classical library feel. With the yellow cross in the last glass window design you really would be forgiven for thinking they were stained glass windows!
We love creating bespoke windows like these as they make great focal points and when the sun shines through them, well, it's just magical! If you'd like to comission any fused glass art or would like to find out more about glass window design, please get in contact with us today.