We're used to seeing our fused glass art in our client's homes and in commercial spaces, but you can now find pieces of our work in a lovely new location – The Old Smithy tea-room in the Peak District. This beautiful establishment is under new management and the owners have decided to put our fused glass art in there as a gallery. We have to say, it looks unbelievable!
The Old Smithy is a fully licensed tea-room and shop in the Peak District, specifically in the wonderful village of Beeley. Beeley is right on the edge of the Chatsworth estate, which is home to the famous Chatsworth House. It's a stunning spot and the picturesque village is popular with tourists and locals alike. There are various walking and cycling routes to enjoy and The Old Smithy is the perfect spot to relax after such an activity. You can enjoy lunch or just refreshments, and now, our fused glass art will be there to enjoy too!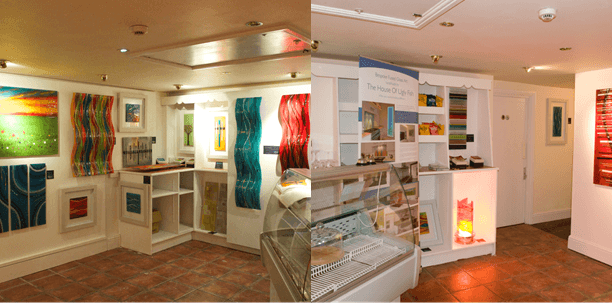 We couldn't have asked for a better setting to display our fused glass art. The café has a real country, rustic feel and all the food they prepare is fresh and sourced locally. Where possible everything is baked and prepared on site and you can really tell! The food is delightful!
The Peak District is one of the most beautiful places in the UK and if you ever have the opportunity to visit you won't be disappointed. There are things to do and see that the whole family can enjoy and now we're delighted that our fused glass art will be on show for everyone to enjoy.