We've been creating glass splashbacks for a number of years and now is the time that we feel they are really coming into their own. They're such a popular addition to any kitchen and can really become the focal point of the room. Glass splashbacks are great because really, no matter what the style, colour, shape or design of your kitchen, you can find one to complement your space. Because we offer a bespoke glass splashbacks service, we make it even easier for you to get glass splashbacks to suit your kitchen.
To give you an idea of some of the different types of kitchens we've created glass splashbacks for, we thought we'd share with you some pictures of our work in their new homes! We think it's always worth seeing products as they were always intended to be seen; and this way you can see how well we can tailor the design and style of our glass splashbacks for each individual kitchen.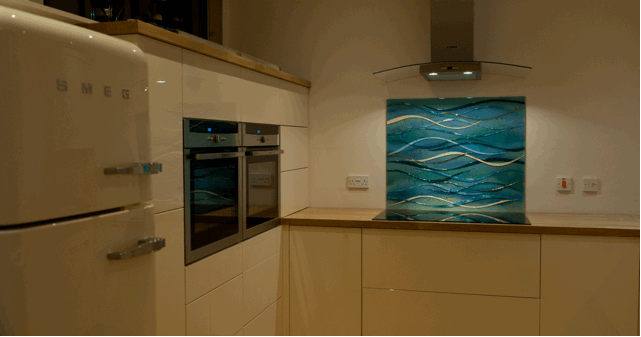 Here's a lovely aquatic themed glass splashback in Torphins, Aberdeenshire. Because of the simple design and neutral colour scheme of this kitchen, the colours in the splashback really stand out; a perfect example of how glass splashbacks can be the focal point of the room.
For the next client we created two glass splashbacks for the same room. When you have a big kitchen like this one in Ashburton, Devon, two splashbacks can work so well together. We think the red in the first picture really complements the AGA and ties in perfectly with the colour scheme. The splashback behind the sink is a lot simpler but is just as effective.