A lot of the time our clients end up commissioning more than one piece of fused glass art for their home, which is great because we absolutely love getting to flex our creative muscles in more than one room.
As we work in the fused glass art business, the two rooms we tend to work most often with are the kitchen and the bathroom. Glass splashbacks are very popular for the kitchen and our fused glass art looks great in any bathroom; because of the nature of fused glass art, the steam and moisture in these places won't affect it unlike traditional art work.
We love a good picture here at The House of Ugly Fish; if you read our blogs frequently then you'll be all too aware of this, so to indulge our love for a few cheeky snaps, here are some pictures of some fused glass art we completed for a client in Surrey.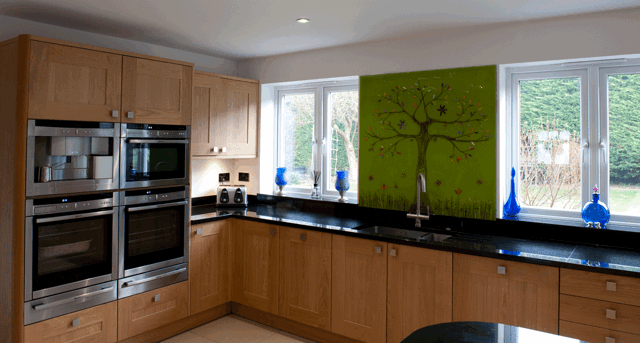 This 'Tree of Life' glass splashback is probably one of our most popular pieces of fused glass art. While a lot of people love to create their own unique design, some fall in love with a design we've already created, such as this one. We think the design fits in perfectly in a kitchen.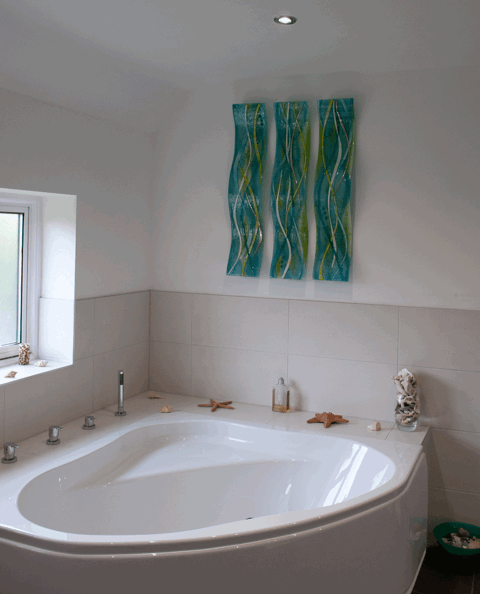 The second piece of fused glass art we created was for the bathroom. Blue and green are popular colour choices for the bathroom as they tie in with nature and water; especially this one that has the curved glass. We think this piece complements the bathroom accessories they already have such as the starfish and shells perfectly.
Our fused glass art can be created to cater for any design in any room, so have a look around our website and get in touch to start planning your own piece!