Today is the first day of June which means it is officially the first day of summer. How's the weather looking outside your window? We love the summer here at House of Ugly Fish – what's not to love? The warm sun beating down on your face, the tickle of a summer breeze on your skin and the beautiful sight of a glorious blue sky all add to the summer vibes. We've had the opportunity to create some wonderful bespoke fused glass kitchen splashbacks over the years that have depicted beautiful summer landscapes, come to think of it…
It's definitely the kind of image that works in a splashback, after all, and we don't think you have to be even particularly familiar with fused glass art to imagine how a wonderful summer landscape can brighten up any kitchen. The great thing about a bespoke kitchen splashback from The House of Ugly Fish, however, is that it can be tailored to suit your existing décor and made to perfectly match your idea of a perfect piece of glass.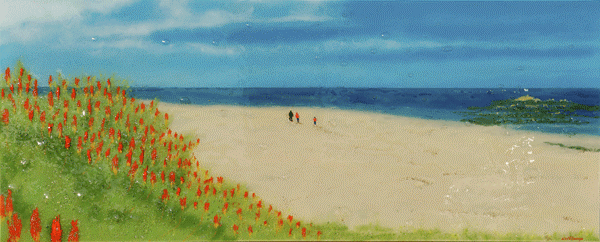 Here is a lovely beach summer landscape we created for one of our clients who wanted one of our fused glass kitchen splashbacks. We love the relaxed scene and the different hues of blue in the sky. The vibrant grassy area and red flowers contrasts beautifully with the neutral tone of the sand – where do you think the people are walking to?
Is there anything better than a summer sunset? It's what's depicted in the second of our bespoke fused glass kitchen splashbacks we'd like to share with you. The harbour looks beautiful with the shadow of the boats reflecting off the water, but our favourite part of the glass art has to be the wonderful orange tones and hues that show the majesty of a summer time sunset!