You might not know this, but here at The House of Ugly Fish, we not only create fused glass art for the home, but for commercial environments too. In the past, we've commissioned pieces for offices, restaurants, reception areas and even hospitals.
One of our favourite examples is some fused glass art we made for The Royal Victoria Infirmary in Newcastle upon Tyne. We were approached and asked to create a beautiful piece of fused glass art that could tell the story of how the infirmary originally came to be built back in 1906.
We love this fused glass art because it's one of our more intricate and creative pieces we've done and we really got to have some fun with it.
Before the infirmary joined the NHS, it had to raise money from the people of Tyneside to initially open, and then again for further extensions and necessary equipment – no easy task during the depression years. In the fused glass art below, you can see how we created five glass panels that show how, united by their love of football, the people of Tyneside including, miners, farmers and shipbuilders, contributed their hard earned money to the building of the infirmary. Because of their generosity, the infirmary was opened in 1906 by King Edward.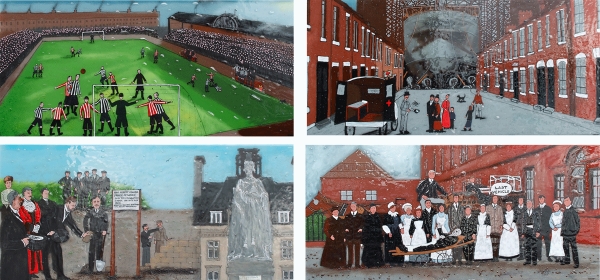 It's such a touching story and really epitomises the idea of community spirit, and it was such a lovely story to portray through fused glass art. Now, the infirmary has over 20 wards, a nurses' home, a chapel and five operating theatres!
Fused glass art is a great way to brighten up hospital or health centre walls and with hygiene and cleanliness being a huge factor in these environments, fused glass art is a better option rather than traditional art.
If you'd like to commission a piece of fused glass art for your health centre or commercial environment, get in touch today