"I put my heart in your hand"
We think this David Gray lyrics is apt when it comes to describing the process of making our bespoke fused glass art for our clients. Our clients come to us with an idea, design or theme that comes from the heart, and then it's our job to take it in our hands and mould it into something real; in our case, fused glass art.
One of our clients from Southampton, a major port city as you know, wanted some fused glass art that reflected this. We made a fused glass art piece to go on the wall which we think works so well in this space: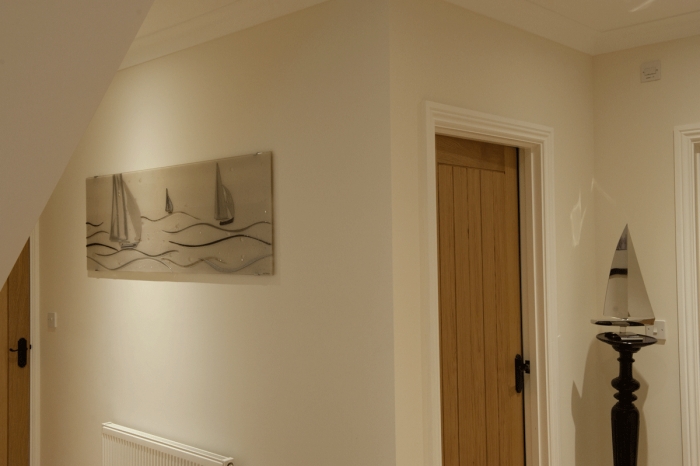 This piece of bespoke fused glass art for the wall incorporates the image of sailing boats on the water in a muted, minimalist style. Waves of silver and black illustrate the seas, placed upon a background perfectly suited to the decor of the room. A nautical theme such as this is especially suited for our fused glass art, as the array of bubbles and undulating texture of the art lend themselves ideally to the look of water. Our piece also complements the sail boat they already had on display.
We love seeing our bespoke fused glass art pieces in their final home because it is here that the fused glass art really comes alive. If you'd like to commission some fused glass art then give us a call today. We can create any type of image or style, depending on what idea you have in your heart!