Ormskirk is a lovely market town in West Lancashire. It's a town with plenty of history and some stunning buildings, and there are hallmarks of the town's past to be found throughout. Today's blog isn't about the old, however, as we recently brought something brand spanking new to a home located there. It shouldn't surprise you that we're talking about a piece of fused glass art, of course, but the sheer beauty of the panel might do just that. We were definitely taken aback when it was fully fitted and finally nestled in situ!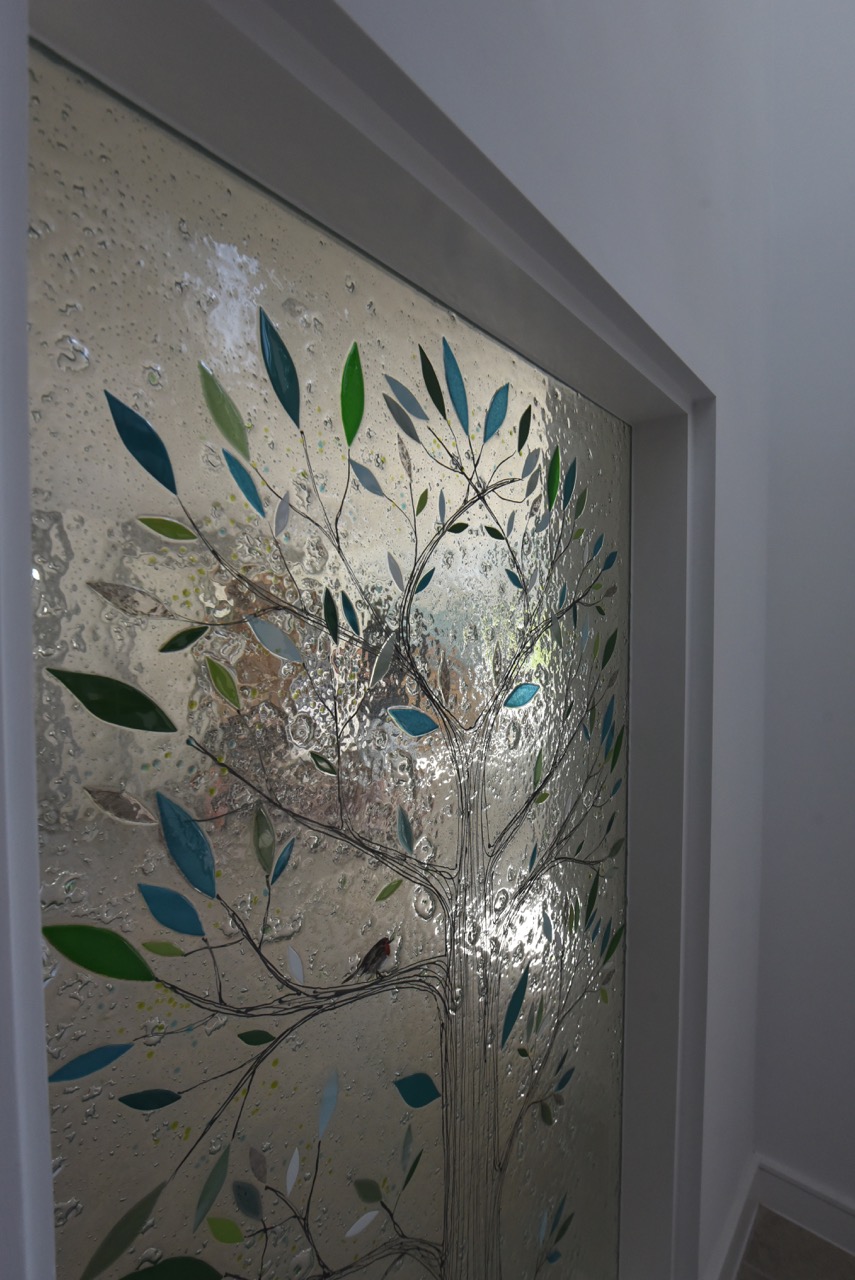 This beautifully grand panel of fused glass art is one of our largest Tree of Life designs ever, with a mighty trunk standing tall and a healthy array of branches and leaves reaching out to fill the space beautifully. The couple who ordered the piece had actually built their own house, and so they definitely knew what would look best. They wanted to create a real wow factor, aiming to draw all the right kinds of attention from anyone entering the atrium.
To preserve the light and airy feel of the room, the panel was created translucent. The resulting effect worked a treat, especially on the outside of the tree where the background sits unobstructed. This allows the glass to act like a frosted window, and light can shine through in a unique and very beautiful way. It's laminated, which means you can view the piece from both sides and it will always look great. Not only that, but the way it interacts with the colour fused into the panel has to be seen to be believed, and it makes it all the more perfect to be a room divider.
Also, on the subject of colour, it's worth noting just how subtle the green and turquoise hues of the panel actually are. Not only does the translucent quality give the glass a lovely desaturated look, but the design was made to perfectly complement the neutral décor of the atrium. Strategically placed silver accents also help achieve that, while making sure the glass absolutely sparkles when light hits it.
If you'd love to have something just like this in your home, then give us a call!
The team here at The House of Ugly Fish would love nothing more than to create something incredible for you and your home. It's always an immense pleasure to see our customers' ideas come fresh out of the kiln, and it's even better to deliver it to their doorstep to see the look on their faces when they see the real thing in person.If you've got some fantastic ideas for an exciting piece of fused glass art, give us a call. It's no matter if you'd like a grand translucent panel like the piece featured here, a kitchen splashback, a grand glass wall art panel or even just a fruit bowl to tie a room together – our kilns are ready to go.